MSB Mastercard mDigi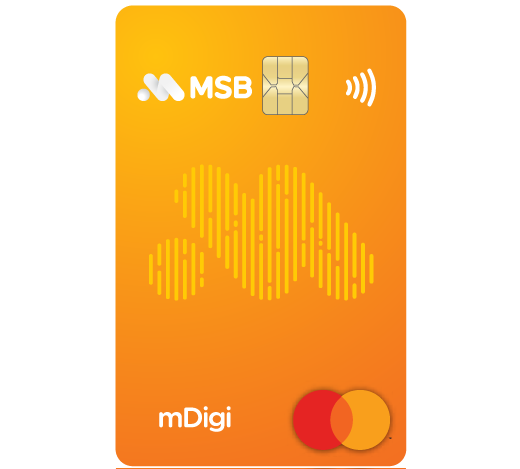 Flexible cashback, feel free to live in your own way
20% cashback, change the cashback field according to your preferences
20% cashback, change the cashback field according to your preferences
Detail card

20% cashback, up to 300,000 VND/statement period
Freely choose the field of monthly payment:
Eat, drink, coffee
Travel and hotel
Digital entertainment application
Cashback policy see here

Technology virtual card, choose your own card
With the mDigi virtual card that can be accessed through the MSB Plus program, you may make hassle-free and convenient online payments without using a physical card. You can personalize the color of your virtual cards to reflect your own individuality.

Opportunity to buy bargains at your fingertips, up to 50% off
Up to 50% off at more than 300 stores in JOY Deals World

Flexible installment payment
Flexible installment payment for all transactions up to 12 months, especially support 0% interest rate at many big partners such as Shopee, Tiki, Sendo, FPT Shop, Nguyen Kim, etc.

Up to 45 days interest free
Shop with peace of mind, with interest free of up to 45 days
Eligibility and Documents
Điều kiện mở thẻ
Nationality : Vietnamese.
Age: From full 18 to 65 years old.
Income: Salary transferred from 05 million VND/month.
Having household registration/temporary residence in the provinces/cities where MSB is located.
Terms - Conditions for the issuance and use of credit cards See here
Điều kiện mở thẻ
Credit card issuance request
Identity Card copy
Household Registration Book copy
Temporary residence proof if not living at permanent residence address (utility bills, landline bills, Internet bills, or notice on utility, landline payment)
Income statement or other alternative proofs
Frequently Asked Questions